Kamal Hadi Reda, A.K.A. "Kooks" is a Lebanese actor and stand-up comedian. He holds a B.A. degree in Graphic Design, and he's a basketball coach as well. Kooks started doing stand-up comedy in 2010, influenced by great comedians such as George Carlin, Louis C.K., and Jim Jefferies, who according to Kooks, are all into the dark comedy scene. His friends encouraged him to perform his stand-up comedy, and he had his first performance in college before a 200-people audience. He then started performing at the Monot Comedy Club.
ARTICLE by Yousif A. Salame
Fine Line Production had the pleasure of interviewing Kooks for our Art Line web video series that introduces up-and-coming talents from the Lebanese arts scene.
If you're a Lebanese artists and would be like to be interviewed as part of our Art Line series, please follow this link and fill in the application.
Kooks also performed in many theaters such as Al Madina, Metro Al Madina , Babel , Gemmayze, and different universities and comedy clubs and bars.
His main comedy topics are politics, religion, sex, and social AGGRESSIVE issues. "The idea behind that, is to deliver the truth in a comedy way no matter how harsh it sounds", says Kooks.
Kooks considers the Lebanese society to be full of materials that he can use in his comedy. However, the biggest challenge according to Kooks, is censorship. "In many cases I change my entire script while on stage, and I improvise."
Lebanese laws require comedians and all other performance artists to submit their scripts to the General Security for approval, which makes it hard to discuss the things they want to.
"There is always the taboo of talking about politics, religion, and sex. But to me, if it doesn't hurt, it's not funny, and if it doesn't make you think, comedy becomes pointless, and just for laughs."
Kooks enjoys collaborating with other comedians such as Elie Mitri and Jamal Malaaeb, because he feels that this adds a variety of opinions, styles, and diverse topics to the show.
"I want to be famous for the stuff that I say and be known by my style of comedy and my content , not by the way how society wants to see me."
Kooks hopes that one day Lebanese performers enjoy the freedom of speech to say whatever they want without censorship, which he considers to be a huge burden and restriction to creativity and to criticize the power of politics and religion.
On August 2nd of 2018, Kooks hosts a stand-up comedy show at Al Madina Theatre. We recommend you go watch him. Below are the details to the event.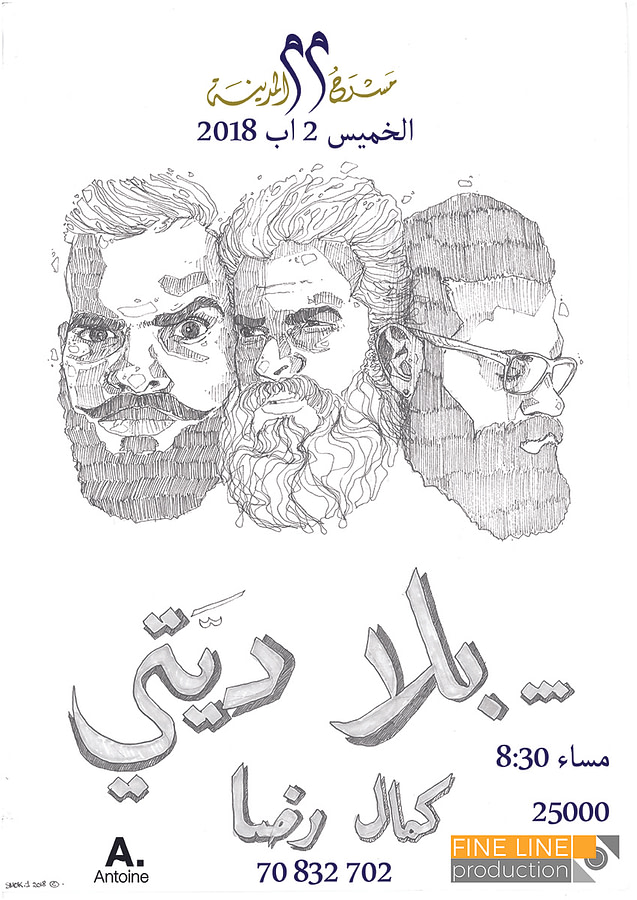 ArtLine is a series of web interviews for Lebanese up-and-coming artists. FREE for all Arts people in Lebanon, produced by Fine Line Production​.
Produced by: Said Halawi
Directed by: Yousif A. Salame
Cinematography by: Hasan Salame
Production Design by: Ilat Knayzeh